| | |
| --- | --- |
| | |
---
Cool Websites and Tools [June 3rd]
Posted: 03 Jun 2011 08:31 PM PDT
Check out some of the latest MakeUseOf discoveries. Most of the listed websites are FREE or come with a decent free account option. If you want to have similar cool website round-ups delivered to your daily email, subscribe here.
MercuryApp – Some web apps can record your mood or feelings through blogging, Twitter, or by keeping your own online journal. However if you need to quantify your feelings, you should check this out. MercuryApp is a cool app that lets you track your lifestyle through stats and trends. Read more: MercuryApp: Track Your Lifestyle Through Stats & Trends

AppPress – This is a wonderful user-friendly web service that lets you create iOS applications to promote your website or for any other purpose you desire. These apps can be created by anybody – no coding is involved. The site's interface is intuitive and lets you quickly create applications and add pages to them. You can reorder pages, add titles and images to each page, and even add advertisements to the pages. Read more: AppPress: Create iOS Applications Without Any Programming [10 Free Accounts]

Slow Add-Ons – Add-ons or extensions are a great way to enhance your browser's functionality, but this increased functionality comes at a cost of decreased performance. For most browsers, the impact on its load time is negligible, but some can affect it as much as 75%. Mozilla recently analyzed the top 100 add-ons that slow Firefox down and published a list of ones that slow you down the most. Read more: SlowAdd-Ons: See Which Add-Ons Slow Firefox Down

Droptunes – Dropbox is a popular online service that people use to backup and sync files. Many users upload songs to their Dropbox account from their computer and then listen to them from another machine by downloading them. Here to help play your music directly online is a service called DropTunes, a free and simple web service that plays the audio files contained within your Dropbox account. Read more: DropTunes: Play Music Directly From Dropbox Account
These are just half of the websites that we discovered in the last couple of days. If you want us to send you daily round-ups of all cool websites we come across, leave your email here. Or follow us via RSS feed.

---
Follow MakeUseOf on Twitter. Includes cool extras.
---
Read comments:
Loved it? Hated it? Join discussion here ...
More articles about:
cool web apps
Similar articles:
Posted: 03 Jun 2011 07:31 PM PDT
If you have discovered MakeUseOf just recently and are one of our 450,000+ subscribers, consider following us on Twitter as well.
You'll be notified everytime there is a new post on the MakeUseOf Blog, a web app review on the MakeUseOf Directory or something new on Geeky Fun.
Plus, we would love it if you would re-tweet the posts and discuss them, so more people get to know about us and join our community.
Follow MakeUseOf on Twitter Now
Thank you!

---
Follow MakeUseOf on Twitter. Includes cool extras.
---
Read comments:
Loved it? Hated it? Join discussion here ...
More articles about:
announcements
,
Twitter
Similar articles:
The 5 Best Questions From You [MakeUseOf Answers]
Posted: 03 Jun 2011 06:31 PM PDT
Every Friday MakeUseOf Answers honors the Best Answer of the Week . Answering questions is not only your chance to help somebody out, you also enter the contest automatically. And who doesn't like to win?
This week's winners are:
Best Answer of the Week – FIDELIS
1st Runner Up – Mike
2nd Runner Up – Jay
Congratulations to the winners!
Not geeky enough to answer all the toughest questions? Maybe you can learn something new from our best questions? Do have a look!
For regular updates subscribe to the Answers RSS Feed.
Need help? Ask A Question at MakeUseOf Answers.

---
Follow MakeUseOf on Twitter. Includes cool extras.
---
Read comments:
Loved it? Hated it? Join discussion here ...
More articles about:
answers
,
Q&A websites
,
tech support
,
troubleshoot
Similar articles:
10 Powerful & Useful iPhone Camera Apps To Help You Take Better Pictures
Posted: 03 Jun 2011 04:31 PM PDT
Right behind the Nikon D90, Apple's iPhone 4 is the most popular camera in terms of pictures taken and uploaded to the photo sharing site, Flickr. While this little camera in your pocket has its limitations, there are hundreds of apps that provide it with some truly professional features and enhancements.
There are hundreds of paid apps built for the iPhone camera, but there are also some really useful free options. I selected free apps that are both good demos of their counterpart full versions and/or just useful apps for the serious iPhone photo hobbyist. If you know of other good free options, please let us know about them.
Cropping Apps
The iPhone camera doesn't have a post-shot crop tool, and if you're serious about iPhone photography, you should have an app that enables you to crop photos. Many paid advanced photo editor apps include a cropping feature, but I found two iPhone camera apps that are devoted to just cropping and resizing images.
The aptly named app, Crop [iTunes Store link], enables you to crop and rotate your images without losing quality to your cropped images. It's simple to use, and you don't have to tap several buttons to get what you need.
Rotate and Crop [iTunes Store link] includes the same features Crop, but it also allows you to make some exposure image adjustments, as well as share and export your edited images to Evernote, Dropbox, and a few other applications.
Photo Album
The iPhone includes a photo library application for storing photos you import from your computer via iTunes, as well as the Camera Roll of images you snap with iPhone itself. But you should have one or more photo album apps that allow you to create folders of images that you import from your existing camera roll, your photo library, or images you download from the Internet on your iPhone.
iPic Manager [iTunes Store Link] is a good free option. You can quickly add multiple photos from your existing iPhone library as well take a photo and have them instantly added to your selected folder. You can also password protect your images.
You might also want to have a photo album app that is completely devoted to safeguarding selected photos on your iPhone. Private Photo Vault [iTunes Store Link] is another such option. This app also allows you to password protect individual albums, run a slide show, take photos from within the app, and much more.
Photo Mashups
If you want to do something fun and creative with your iPhone photos, there are a couple of free options. RealCoverLite [iTunes Store Link] allows you to place a photo inside a magazine cover without having to mess around with layering and masking. The Lite version offers only 6 covers (the full version includes 90), but it's great for seeing what this app can do.
Your cover images can be emailed and shared with others. You can also include additional text on template covers.
Creating photo collages is another cool way to show off photos. PhotoMashup [iTunes Store Link] allows you to copy and paste several photos from your iPhone photo library, and save or email them as a collection in one file. The default background for a collage project is gray, but you can double-tap on the background and shoot a new background from within the app, or you can choose an existing photo from your library. From there you can layer photos on top of one another. They can be moved around and rotated.
Timer Apps
It's also good to try out one or more time shutter apps on your iPhone. These iPhone camera apps are useful for shooting self-portraits, group and close-up shots. Photo Timer is one of the best options, and it's free for a limited time. It not only enables you to set a timer for the shutter release, but it also includes a photo composition guide, burst mode, and photo sharing to Facebook, Twitter, MobileMe, Tumblr, and email.
If and when Photo Timer is no longer free, Auto Shutter is another option, which does exactly what it's named for.
Photo Enhancers
The iTunes App store includes hundreds of iPhone camera apps for editing and enhancing your photos. We have published reviews about few good free options, including Adobe's Photo Express and Instagram, but here are a few more.
The free version of 100 Cameras in 1 is a popular photo editor that includes 20+ photo effects for hardlighting and overlaying photos with various textures and filters. The paid version includes 100 more effects, but this free version is a good demo of what the app can do. You only have to tap once to apply an effect and see the applied effect.
iQuikDof – Depth of Field Creator is an advanced photo editor that enables you to create a depth of field effect of a selected image. It contains auto presets feature for the DOF effects, or you can manually select an area in which you want to mask and keep in focus, while the unselected area is blurred. This is also a good demo app for the pro version which includes more presets and customizable blur.
Let us know what you think of these apps and if you find one or more of them useful.
For more about how to use your iPhone camera to take better photos, check out Take Better Pictures With Free Camera Plus and Learn Digital Camera Exposure Settings Using Your iPhone.

---
Follow MakeUseOf on Twitter. Includes cool extras.
---
Read comments:
Loved it? Hated it? Join discussion here ...
More articles about:
camera
,
iphone
,
iPhone Apps
,
photo albums
,
photo effects
,
photography
,
photography tips
,
photos
,
smartphones
Similar articles:
Use Llama To Automate Your Android Phone With Location Profiles & More
Posted: 03 Jun 2011 03:31 PM PDT
On a scale of one to ten, how smart is your smartphone, really? It may be smart enough to handle email, or help you navigate unfamiliar urban landscapes. But is it smart enough to turn off the GPS when you plug it back in at home? Or does it have the brains to turn on the ringer once you've left work?
Some of the old Android pros in the audience may be thinking right about now "hey, that sounds an awful lot like what Tasker for Android can do". And you know what, you'd be right to think that. But here at MakeUseOf, we only write about free applications and tools… and this is where Llama for Android comes in.
If you already know Tasker, you can think of Llama as its free cousin, with a quirkier personality, who's easier to get along with, and is a tad less brainy. If you don't know Tasker, you can think of Llama as the most powerful customization software for your phone money can't buy.
After installing Llama and running it for the first time, you'll be greeted with this extensive help text:
This is one developer who's obviously expecting people to read their help. If you've never used customization software before, do resist the urge to tap the "Okey doke!" button and read these prompts. You won't regret it.
Immediately after tapping "Okay doke!", you're greeted with yet another peppy help message:
Locations are an integral part of Llama's life, and yet it manages to do without using GPS or WiFi (at least by default). It works by checking to see what signal masts ("cells") your phone is talking to. That's brilliant because it doesn't take up any additional battery power and provides a fairly reliable location signal, especially in a dense urban jungle. Eager to get started, I quickly tapped "Groovy" and then tapped the first entry on the list, which said "Home":
Oops… What's that now? You see what I mean about reading those help prompts? It clearly says above, "Long-tap the area for your current location". Okay, long-tap it is:
Ah, that's much better. I then chose "Start Learning Area", to help Llama find out and remember what cells it finds around my home. It then asked me the next obvious question:
I had a while before I next needed to pop out, so I told Llama I'm going to be around for at least 30 minutes (I had to scroll the list for that). It then returned me to the Areas list:
If I had reception for more than one cell in my home, I could now take my phone for a quick trip around my mansion and have it detect all available cells. They would all automatically go into the Home location, helping Llama pinpoint it that much better in the future. As it was, I was content to keep touring the interface. I decided to take a look at the settings:
Here too, the author's preference for longer help texts shows. Each setting is painstakingly detailed right in the menu, making a separate manual less necessary, and Llama easier to get along with. There was a button entitle "Experimental Stuff" with help text that said "Here be dragons". Naturally, I just had to tap it:
So here we discover Llama has additional location modes, for the curious and those living in areas where cellular masts are few and far between. You can use a GPS, use WiFi (i.e, check to see if you're near certain networks), and even periodically check for Bluetooth devices. All settings were marked EXTREMELY EXPERIMENTAL (all-caps courtesy of the author), and seeing as how I live in a very cell-dense area, I saw no need to try them out. I guess I wasn't feeling that risqué after all. Onwards!
Llama's main building blocks are "events" and "profiles". Let's start by looking at events first. An event is made up of "conditions" and "actions". To cut out the jargon, a simple example would be that you pair the phone with your Bluetooth earpiece (condition) and it switches to Silent Mode (actions).
Now let's look at what some of these conditions may be:
As you can see, there are quite a few. Help is just a tap away, for each of them. This is one thoroughly documented app, in case you haven't noticed. Calendar Event is a pretty interesting condition:
So if you mark your meetings with the word "meeting" ("project meeting" etc), you could use Llama to have your phone switch t0 silent just as soon as a meeting starts. You can also have more than one condition per event:
Here, the event would execute only if I'm in a scheduled meeting between 9:00am and 5:00pm. Now let's add an action:
We've added an action to change the Profile into Quiet when this event happens. In simple terms, it means my phone will automatically switch to silent when I go into a meeting, but only if that meeting happens sometime between 9am and 5pm. So late meetings might just get interrupted… too bad, right?
But what's this "Profile" thing, and where did it come from? Well, I'm glad you asked:
You can think of a profile as a "set of settings". If you've ever had a Nokia phone before, the concept would be instantly recognizable. Let's take a quick look at some of what you can find in a profile:
Ringtone volume, notification volume, vibration, the specific ringtone and/or notification tone for that profile, the media volume, alarm volume, and any other type of volume or sound your phone can possibly make. In short, profiles provide you with granular control over your phone's speaker. So, for example, you can have a profile that only rings, softly, but doesn't make any sound when you get an SMS or an email/chat message.
Last but not least, let's look at the Recent tab:
This is a history of the cellular masts your phone recently used. As you can see, I've used a cell other than my default home one. I could add it to an existing area or use it to create a new area. This is handy because it lets me teach Llama about locations after the fact, in case I didn't have time to train it while I was at the office (for example).
Bottom Line
If you've made it all the way here, then you already know how awesome Llama is. But in case you just skimmed the article, let me spell it out for you: Llama is an amazing piece of software for your phone, and gives Tasker a real run for its money. It's free, friendly, playful and powerful. If you don't own Tasker but always wanted to automate your phone, get Llama right now.

---
Follow MakeUseOf on Twitter. Includes cool extras.
---
Read comments:
Loved it? Hated it? Join discussion here ...
More articles about:
automate
,
google android
,
location
,
smartphones
Similar articles:
GeeMail – Access Gmail Outside the Browser With This Simple Desktop Client
Posted: 03 Jun 2011 02:31 PM PDT
Gmail is now the only email service I use. It's fast, extremely simple, has a lot of great features, and it has everything I'm looking for from an email client. Google Labs alone makes Gmail worth giving a try if you haven't used it before, and there are plenty of third party add-ons you can utilize as well. Just recently, in fact, I showed you TaskForce, which gives you an easy way to convert Gmail emails into tasks.
One of the things I've always liked about Gmail was that it was the first true cloud app I got used to accessing. Being completely browser based, it helped me transition from desktop apps to web-based ones, possibly because there simply weren't any desktop email clients that could live up to what Gmail offered, at least for me, anyway.
That no long holds true now that I've found GeeMail. GeeMail is a standalone Gmail desktop client for Windows, Mac, and Linux, and it's a great answer for your offline needs.
What Is GeeMail?
GeeMail runs on Adobe AIR (cross-platform), and it looks and feels a lot like the Gmail that you're used to. Since GeeMail supports the old UI of Gmail itself, things just work the way they do in Gmail, even the keyboard shortcuts.
With GeeMail, you can view all of your mail and even reply to messages while offline. When you do, your replies will be sent the next time the application detects that you are connected to the Internet.
Gmail tried to give users an offline solution using Gears, but GeeMail is a lot faster. It can grab hundreds of your most recent messages within minutes. It can do this because it only pulls in the bare essentials. Gmail's labeling structure, for instance, won't be pulled in by GeeMail unless you are online.
There is no configuration with GeeMail. The program has everything in place which is required to access your Gmail, meaning you don't need to configure POP and IMAP settings like traditional email clients.
GeeMail also has a search feature, which I believe is newly added. You can search emails regularly, or click on Advanced Search to do things like search only messages from or to a specific person.
How Do I Use GeeMail?
To get started with GeeMail, just head over to their website and click the Free Download button. The client will install with Adobe Air and the first time you run it you will see a login screen that looks strikingly similar to Gmail's online login page. Type in your credentials to log in and get your mail.
GeeMail will take a minute to connect to your Gmail account and load, but once it does you will have all of your email and labels in the app to begin viewing.
Conclusion
As with any email client, GeeMail takes a bit of getting used to, but once you have it where you feel comfortable, it's quite useful for you. I will be sticking with the online version of Gmail, but this presents a nice offline solution for me if I ever need to read something important when my Internet connection goes down.
What do you think about Gmail desktop software or desktop email clients in general? Do you have a favorite app?  Let us know what you think about this one and whether you see yourself using it, instead of the web-based Gmail.

---
Follow MakeUseOf on Twitter. Includes cool extras.
---
Read comments:
Loved it? Hated it? Join discussion here ...
More articles about:
adobe AIR
,
cross platform
,
desktop client
,
email
,
email client
,
Gmail
Similar articles:
Hot Tech Deals – Lenovo Discounts + more
Posted: 03 Jun 2011 01:30 PM PDT
We've got some great deals on Lenovo laptops today, savings range from $400 for their i5 Sandy Bridge laptops all the way to $700 for their i7 model.
For more fresh hot deals, visit our Hot Tech Deals page, which is constantly updated.
---
Download videos from the sites like YouTube, Break.com etc. Convert videos to almost any format.
---
Read comments:
Loved it? Hated it? Join discussion here ...
More articles about:
deals
Similar articles:
Make Social Travel Plans With Gtrot Via Facebook
Posted: 03 Jun 2011 12:31 PM PDT
Have you been longing for an easy way to tell your friends where you're heading for your holidays and perhaps catch up with friends who are heading in the same direction? Or do you one day wish you could go traveling to a certain city but don't know which friends might be interested in taking the trip with you? Well, Gtrot will surely help. That's precisely what it aims to do.
Gtrot is a social travel planning tool that lets you tell your friends about your travel plans and previous trips, then connects you with friends who want to go to these places too. Let's say you'd like to go to Berlin. Once that's entered, Gtrot will show you which of your friends have lived in Berlin, traveled to Berlin or are planning a trip to Berlin, meaning you can quickly ask for travel advice and potentially meet up with some of your friends while you're there.
Getting Started With Gtrot
Signing up with Gtrot is a cinch as you just use Facebook authorisation to log in. Gtrot will grab your photo, current city and hometown from your Facebook information. If you don't want to share your current city, you can change this preference in Gtrot's privacy settings.
Next, you can link your Gtrot account to Foursquare in order to make your check-ins appear in Gtrot. Gtrot will try to add cities you've visited from information found in Facebook and Foursquare.
You'll notice that Gtrot will also find any data available to it from your friends in relation to hometown and current city. You may see some friends in your current city who don't yet use Gtrot. This makes the Gtrot system useful to you even if your friends haven't joined the social network yet.
Add Trips & Cities You've Visited
The easiest way to do this is to add past trips, as Gtrot will then automatically add to the list of cities you've visited.
When you enter your past trips you can also tag your Facebook friends as being with you on the trip, which automatically improves Gtrot's information. This means that when your friends' friends join Gtrot they will see useful data about trips your friends have taken. Plus, if your friend joins, most of the data will already be there ready for them.
All your trip information can be published to Facebook if you like. Plus, you can notify your friends that they've been tagged.
Adding Future Trips
Future trips can be added just as simply as past trips. But you can also email your travel itinerary to trips@gtrot.com from a registered email address in order to automatically add the trip. They make it so easy!
Also, within your account preferences you can see notifications. If you like, you can ask to be notified whenever a friend adds a particular city to their details. So, if you're planning a trip somewhere special or you're looking for a travel buddy, this is ideal.
Should I Use Gtrot Or Something Else?
Gtrot has a lot of competition in services like Dopplr, TripIt, TripAdvisor, older services like Wayn, other travel services and travel websites and online travel guides. Personally, I think Dopplr is the only contender for real competition here and it seems that Gtrot have already thought of ways to get ahead of the pack. In the end, these travel services are only of any use if people update their information and if their friends use the service. Gtrot has found ways to automate this somewhat.
There was also a potential for services like Foursquare to become competition, but with the linked service Foursquare ultimately become another tool to get information into Gtrot. This makes it much more likely that Gtrot's information will be relevant and useful when people go to use it, even if their friends have never heard about Gtrot. Being able to give locations for yourself and tag friends for locations in Facebook, Gtrot and Foursquare will make Gtrot's data collection increase at a steady rate.
It would be great to see Gtrot taking in information from Flickr as well, showing pictures from trips and automatically adding trips and cities to a user's history according to photo metadata.
Do you use Gtrot or another travel planner? What are the most important features to you? Let us know in the comments!

---
Follow MakeUseOf on Twitter. Includes cool extras.
---
Read comments:
Loved it? Hated it? Join discussion here ...
More articles about:
community
,
Facebook
,
foursquare
,
friends
,
planning tools
,
recommendations
,
social networks
,
travel
,
travel tips
Similar articles:
6 Websites That Can Help You Become An Educated, Ethical, & Safe Shopper
Posted: 03 Jun 2011 11:31 AM PDT
In the 21st century and beyond, sustainable living is more than just a buzzword. It is becoming a way of life. But sustainable living and consumerism hardly go hand in hand.
With blind sided consumerism comes the danger that each product we take in as consumers comes through a processing system that arguably causes more harm than good. From sweat shop manufactured clothes to pesticide laced food, we find it difficult to go green, ethical and safe with our shopping.
But there are a few websites out there that can help us battle it out. They educate us and make us aware of what's good, what's bad, and what's green. Some alert us of banned chemicals and product recalls. If awareness is the first step, let's take a deeper look with these six sites that can in the very least make us educated shoppers.
Let's start with a web service that covers the range of our entire shopping experience from food to cars. The site is almost like a search engine and catalog rolled into one that helps us to sift through 100,000 food, toys, personal care, & household products to easily learn about the best and worst products in a category. The information is definitive on the health, environmental, and social impacts of our shopping and each product is rated on these three scores. Good Guide also has an iPhone app available for download. (See Directory mention)
The Household Products Database is an index of 10,000 consumer brands and their health effects. Along with manufacturer details you can check into its ingredients and chemical effects. The data is collected from public records and Material Safety Data Sheets available with the manufacturers. On the site, you can also search for product recall information.
From diverse products we narrow down to food in an effort to locate freshly produced organic food. The site is U.S and Canada specific and includes family farms, restaurants, farmers' markets, grocery stores that can help you source healthy food closest to your own location. You can download free local guides; plan a trip; read a blog on food, water, and energy; and also save you notes on the site. While on the site check out The Sustainable Table which educates consumers on food-related issues. Then for infotainment, there's the funny viral film – The Meatrix.
Skin Deep's Cosmetic Database is geared towards safety in the use of chemically rich cosmetics and personal care products. The site provides safety ratings after comparing results from nearly 60 toxicity and regulatory databases. According to the site's stats it covers 70,226 products across 2,891 brands. It also says that it is the world's largest personal care product safety guide. Do read up on the articles that go deep into the facets of cosmetic safety. The site is part of the Campaign for Safe Cosmetics awareness effort.  (See Directory mention)
The community based website can give you information on nearly 30,000 green products and green businesses. Like any community website, a lot of the information comes from members. You get direct news of any local events taking place as well as valuable 'insider tips' on local green businesses and their products. Also, the SustainLane US City Rankings is a peer-reviewed, leading national survey that ranks the major US cities in terms of their sustainability practices. But ultimately, you might enjoy reading the articles on green and healthy living posted on the site.
On this governmental website you can search by product type and learn about necessary safety regulations and standards of use. The site serves as a guide for public information. You can sign-up and receive product recall alerts. Consumers can also file an online complaint about an unsafe product.
These websites are mostly U.S specific. Perhaps it is a reflection of the world's largest consumerist society. But so are other parts of the world. What these show is that the web could be the first stop for consumer empowerment. We have often shows you great ways to shop online and catch cool deals; then why not also take a bit of time and learn something about responsible shopping.
Image Credit: Shutterstock

---
Follow MakeUseOf on Twitter. Includes cool extras.
---
Read comments:
Loved it? Hated it? Join discussion here ...
More articles about:
consumer
,
education
,
health
,
information
,
lifestyle
,
shopping
Similar articles:
Everything You Ever Wanted To Know About CAPTCHAs But Were Afraid To Ask [Technology Explained]
Posted: 03 Jun 2011 10:31 AM PDT
Love them or hate them – CAPTCHAs have become ubiquitous on the Internet. What is CAPTCHA anyway, and where did it come from? Responsible for eye-strain the world over, the humble CAPTCHA has been the centre of much attention as the single most effective weapon in the fight against web spam. But are they effective? Are there any other kinds of CAPTCHA other than the basic "tilt your head, squint and read me"?
You Shall Not Pass (The Turing Test)!
Captcha's were invented by a team of Carnegie Mellon professors and put into first use around the year 2000 by AltaVista and Yahoo, in an attempt to prevent automated chat bots and URL submissions. It is in fact an acronym for Completely Automated Public Turing test to tell Computer and Humans Apart.
For those of you who don't know what that means, it may help to explain what the Turing test is. Named after British professor Alan Turing, the Turing test is the standard test of an Artificial Intelligence based machine, whereby if a machine can pass the test, it is considered to exhibit intelligent behaviour. Essentially the test involves conversing with a number of judges through a text interface – if the judges can't tell they are chatting to a computer, it passes the test. Personally, I'm of the opinion that the Turing test is useless, on the basis that a dolphin couldn't converse with a human either, yet we attribute them with a higher form of intelligent behaviour. But I digress.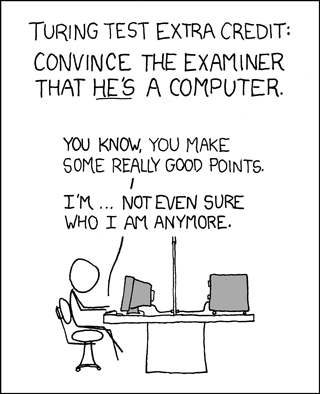 The CAPTCHA therefore, is an automated Turing test. There are a number of different ways of doing this, but the most common one that we seem to have settled on is to present the user with a scrambled form of text, assuming (often incorrectly) that any normal human will be able to decipher the text.
The CAPTCHA has evolved over time, but has ultimately been defeated as we'll find out later.
Text-Based CAPTCHAs & The Re-CAPTCHA Project
The reCAPTCHA project, now owned by Google, decided that instead of inanely deciphering cryptic text for no real good, it presented a fantastic opportunity to correct the shortcomings of computer-based Optical Character Recognition. For older books especially, computers find it very hard to recognise the words, whereas a human finds the tasks trivial. Combine the task of digitising old books with spam prevention, and you're onto an absolute winner.
However, if the computer had trouble recognising the word in the first place, how can it tell if what you wrote in is nonsense? Simple – present the user with TWO words – one of which is known. The system assumes that if the user correctly types the known word, then the chances are that the unrecognisable word is also correct.
Another ingenious idea is to combine the CAPTCHA with some form of advertising.
Math Problem
OK, the picture is a joke, but essentially the user is presented with a basic math problem. We use a similar system on the Answers site right now. It needn't be difficult, just some basic addition.
Image-Based CAPTCHAs
As difficult as some of the ReCAPTCHA codes can be for you and I sometimes, software has already been developed which can break the code with about a 30% success rate – which for a spam campaign with millions of tries is quite an acceptable rate. Images on the other hand are extremely difficult to process for computers semantically. Think about a simple cat picture – programming a computer to recognise a human face is hard enough, but to distinguish a cat from all the other animals and objects in the world is pretty much impossible at this point in time.
Logic-Based
These rely on logical and semantic intelligence about the world, or just basic common human sense. Some examples might be:
Identify the food in this list: asphalt, bacon, cloud, dagger.
Identify the weapon in this list: asphalt, bacon, cloud, dagger.
How many doors are on a four-door car?
What is the third word in this sentence?
What's left if you remove the B from ABC?
A great plugin to integrate these kind of tests into your WordPress comment system is WP-Gatekeeper, by the way.
De-CAPTCHA Services
The sad fact is that while CAPTCHAs are a necessary evil, they are easily overcome by spammers nowadays. While some spammers have indeed developed sophisticated software that can mimic the human eye and brain to decode like a human does, the truth is far more simpler and more horrific. Why develop expensive software when you can pay someone pennies to do the CAPTCHA for you? The current cheapest going rate is $1.39 for 1000 CAPTCHAs, with a 98% accuracy rate, and services such as Death By Captcha have developed elaborate APIs for developers to use. The only person being slowed down by CAPTCHAs nowadays, is you!
The Future Of The Captcha
Like everything else in life, CAPTCHAs are not impenetrable to hacking or spamming. As new and more ingenious tests are devised, ever more sophisticated ways of breaking them will be developed – and the solution of paying someone else to do them for you can never be defeated. Even so, it's our responsibility as web developers and admins to keep spammers away from our sites without degrading user experience.
Are you shocked to learn how cheaply a CAPTCHA can be defeated for? Have you seen any other kind of CAPTCHAs out in the wild that impressed you? Let us know in the comments! Also, be sure to check all the funny pictures tagged "captcha" over on Geeky Fun.
Image Credit : xkcd

---
Follow MakeUseOf on Twitter. Includes cool extras.
---
Read comments:
Loved it? Hated it? Join discussion here ...
More articles about:
captcha
,
spam
,
technology explained
Similar articles:
Monitor Access & Guard Your Android Privacy With LBE Privacy Guard
Posted: 03 Jun 2011 09:30 AM PDT
One of the biggest reasons that I liked the idea of getting an Android phone was the entire concept of an operating system protected from viruses or other malicious software, thanks to the fact that installed apps don't have root access to the OS.
However, it didn't take long before I wanted to enable root access so that I could install and run even more apps. The problem that arises is that once you've opened up that vulnerability, there is always the risk that you could accidentally install malicious software.
We've covered a number of security apps for the Android, such as my article on Mobile Defense, and Matt's article on whether you need antivirus protection for your Android.  However, vulnerability on any smartphone doesn't only come just from possible viruses. It also comes from the potential that malicious software could hijack your data connection, sending emails without your knowledge, or hijacking your cellular account and sending SMS messages or making calls without your permission.
Protect Yourself With LBE Privacy Guard
When you first install the LBE Privacy Guard, you'll see all of the apps that are currently set as monitored and trusted. You can not only protect yourself from viruses, but you can monitor every access point in and out of your phone.
In this way, the app goes far beyond "antivirus" software – it's not necessarily protecting your phone from malicious software as it is monitoring all access points and letting you know exactly what's going on with your phone.


When you first run the Android privacy software, all apps are set up as "monitored apps." If you click on "Trusted Apps", you'll see that starting out only LBE Privacy Guard is included. Any application placed in this category is not monitored at all, so choose carefully!
On the main menu, you'll see all of the categories that the LBE Privacy Guard can monitor and control in order to protect your privacy. Categories include location sharing, financial information, your phone contacts and data, and much more. If the apps don't have permissions enabled in these categories, then they aren't sending or receiving data.
Click on PIM Access Manager to view apps that currently have permissions to send or receive SMS messages from your phone or to otherwise access your cellular phone line.
If you click on any of these applications, you'll see that you have three choices when setting permissions – either permit access, reject access, or require the application to prompt you for permission every time access is attempted.
As you can see, all of the apps have the default setting of prompting required. This is a good setting to start out with, because you can see which apps you have running frequently access which data services. If you see any surprises, you can disable the apps that you didn't know were accessing your services.
Other categories you'll want to check out include things like location information (which apps have access to your GPS coordinates). Obviously this would be a significant privacy concern if there's some app sharing your location details that you don't know about.
Then there are apps that have access to your Internet/data connection. If you really want to keep close tabs on all data going in and out of your phone (especially if you are on a metered data plan), then this LBE Privacy Guard can be a real life saver.
To change permission settings for any specific app, from the main menu select "App Management" and then click on the app that you want to modify. On the app permission screen, you can add or remove the requested access that the application wants to use, or you can choose to enable "Trust" to make it a "trusted application."
A trusted application is one that not only has permissions to access your phone services that it wants to access, but it isn't even monitored or logged by LBE Privacy Guard at all.  This is a good option for any applications that you absolutely know you can trust, like Gmail or Evernote.
If you've noticed your phone running more slowly, or you have higher access charges on your bill than you expected, enable LBE Privacy Guard and give it a try. See if it comes up with any surprising applications that request access to your phone's services.
Let us know what you think of the Android privacy app. And if you know of any other useful antivirus apps or connection monitoring apps like this one for Android phones, share your insight in the comments section below!

---
Hey Facebookers, make sure to join MakeUseOf on Facebook and get access to some exclusve stuff. Over 105,000 fans already!
---
Read comments:
Loved it? Hated it? Join discussion here ...
More articles about:
anti-virus
,
google android
,
Mobile Apps
,
privacy
,
security
Similar articles:
5 Comedy Podcasts That Will Keep You Laughing In Public
Posted: 03 Jun 2011 08:31 AM PDT
There's few things more unusual than watching someone listen to a comedy podcast in public. First you wonder what they are laughing at. Are they just insane? Is there someone you don't see that just told a great joke? Are you losing your mind?
Then you see the earbuds and realize that no one is crazy. They're just listening to a great comedy podcast, and having more fun than you. Well, I have good news – with the right podcast, you too can randomly burst into laughter in public spaces.
Once known as Comedy Death-Ray Radio, Comedy Bang Bang is the brainchild of Scott Aukerman, a writer and comedian known for his work on Mr. Show with Bob and David. Like many podcast hosts, Scott has certainly been around the block, but often flew under the mainstream radar.
The show has numerous guests, but it is far from your typical interview podcast. Instead, the guests often operate as partners-in-crime. There are sketches, there are impressions, and there's even the occasional improv game. It's all a bit silly, but Scott knows when to let absurdity reign and when to reel the show back in, resulting in a tight podcast packed with laughs.
This show is a survivor. Originally aired on radio, the Mike O'Meara show was cut when its station was converted into a sports channel. Rather than give up and go home, the crew decided to keep chugging on as a podcast, and I'm glad they did, because the show is a hoot.
You don't have to listen long to recognize the show's radio roots. It's a very organized, high-quality production staffed with rich radio voices. The show is topical, but also contains bits, a mailbag and more. This would be a particularly good podcast for a workout; it's always an hour long and can act as a no-pressure timer.
Yep, the Nerdist is a podcast that's aimed at nerds. Who would have imagined!
To be honest, though, the "nerd" label is a net that can be cast quite wide these days, so this podcast is more accessible than you'd think. If anything, the Nerdist would be best labeled as an alternative pop-culture podcast, which is reinforced by a guest selection that has recently included Patton Oswald, Ed Helms and Adam Carolla.
While the Nerdist doesn't typically force me into belly-laughs, the smooth hosting of Chris Hardwick, Jonah Ray and Matt Mira keeps a smile on my face, and the Nerdist arguably has the best selection of guests on any comedy podcast currently being produced.
A relatively new podcast, the Pod F. Tompkast is the creation of comic Paul F. Tompkins. Unlike most comedy podcasts, which tend to focus on current events and guests, the Pod F. Tompkast is an exploration in the absurd. There's not always a clear logic to what's happening, and if you're looking for great jokes, excellent bits or in-depth interviews, well, look elsewhere (though that's not to say bits don't exist, or that guests don't take part at times).
Yet there is something indiscernibly engaging about Paul F. Tompkins' voice. Wherever he leads, I'm happy to follow. Indeed, it sometimes seems as if the entire point of the podcast is to see how far deep into absurdity Paul can go while remaining comedic. Be sure to check out the extrasodes, particularly Ice T's Pyramid Scheme and Cake Boss Answers Christmas Questions From Kids.
Okay, I must admit, I've saved my favorite for last. I've been a long-time listener of this podcast, and of all the many that I listen to, this is one of the few podcasts that I absolutely never, ever miss.
The format of WTF is simple; an introduction of about ten minutes, usually consisting of Marc ranting about whatever is on his mind, followed by an in-depth interview with a single guest. It's hard to say what it is about Marc that seems to disarm his guests so thoroughly, but he seems to inspire candidness in everyone who sits with him in front of a mic. This is often the source of the podcast's comedy, in fact, as Marc and his guests tackle everything from family issues to the art of comedy.
WTF can ramble on at times, but it's the lack of structure that gives it an edge. You never know what's going to happen, and it's not unusual for an interview to become hilariously confrontational when Marc hits a nerve – the Gallagher interview is the most famous example, but just one of many.
Conclusion
If you're going to listen to just five comedy podcasts, these are the ones I'd recommend. Fortunately, you don't have to listen to just five if you don't want to. Feel free to share your favorite comedy podcast in the comments.

---
Follow MakeUseOf on Twitter. Includes cool extras.
---
Read comments:
Loved it? Hated it? Join discussion here ...
More articles about:
audio
,
comedy
,
entertainment
,
fun
,
humor
,
offbeat
,
Podcast
Similar articles:
You are subscribed to email updates from MakeUseOf
To stop receiving these emails, you may unsubscribe now.
Email delivery powered by Google
Google Inc., 20 West Kinzie, Chicago IL USA 60610